Elmuccio, Wenz key victory for Gents'
Dominated even without team captain Adam Bowlby
Ogdensburg, NJ--
They aren't my preseason favorite to win it all for nothing. The
British Gentlemen
soundly defeated
Team Walmart
on Monday by a score of 44-0. In the game,
Frank Elmuccio
had 8 receptions, 1 Touchdown, an Interception on Defense, and also returned a kickoff for a Touchdown. XOFL Veteran Travis Wenz added 5 Receptions and 2 Touchdowns on offense, while picking off 2 passes on the day, returning one for a score as well.
Joe Byrne
, who subbed for absent
Adam Bowlby
, went 13 for 18 with 3 Touchdown Passes. He also ran for a score as well and added a sack on defense.
Team Walmart had a rough day as Jeremy Carter started the day by throwing 7 straight incompletions to begin the game. He ended up 9 for 24 with 2 Interceptions. WR
Rocky Tironi
led the team with 6 receptions and Rog Guild contributed with 3 catches on offense, and had an early interception during the game.
Team Walmart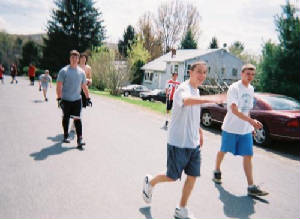 Walmart looked as bad as predicted in the 44-0 loss to the British Gentlemen
After the game Travis Wenz said, "We did pretty well today, considering we played without our team captain, Adam Bowlby. When we are all on our game, we can't be stopped." The British Gentlemen are now 1-0 on the preseason,
and will face F-9 later today.