Elmuccio leads Gentlemen to 2-0 in Preseason
Has big game at WR, with 15 receptions and 2 TD
Ogdensburg, NJ--
Frank Elmuccio
ended the day with 23 receptions and 3 offensive touchdowns after he and
British Gentlemen
took care of business over F-9, 35-14. Elmuccio had 15 cacthes against F-9 and added 2 touchdowns. Travis Wenz added 6 catches on offense, but did most of his damage on defense, adding 2 interceptions, while returning one for a score. Kenny Martinez, subbing for absent Adam Bowlby, had a good day at QB for the Gents' going 21 for 29 with 3 TD Passes and had a big TD run as time expired in the first half, giving the British Gentlemen a 21-7 lead at half.
Brian Saxton
had a decent day against a good British Gentlemen defense, going 14 for 28 with 2 TD Passes, but did throw 2 Interceptions. Xhevat Vukel had 8 receptions, 2 for TD's, while WR
Nick Sabatello
added 6 catches on the day.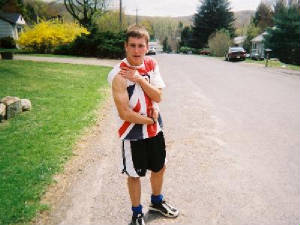 Travis Wenz played a good game against Team Walmart
After a ridiculous interception thrown by QB Brian Saxton, Frank Elmuccio stated, "Good teams force other teams to make mistakes. That's what the British Gentlemen do." Elmuccio is enjoying a strong preseason with 23 catches and 3 Offensive Touchdowns in 2 games. The British Gentlemen are now 2-0 in the preseason.