The Muskrats of 2003-- First Ever XOFL Champions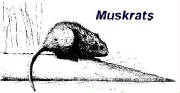 This team was led by Captain Tyler Wenz, who also earned MVP Honors in Cereal Bowl I
2003 XOFL Champions: The Muskrats (Tyler Wenz, Bobby Lang, Ryan Egan)--
In the XOFL's inaugural season, Captain Tyler Wenz led his team to the first ever XOFL Championship. Bob Lang played exceptionally well in an Overtime thriller in the Championship Game at Quarterback, earning him his first XOFL Title. Ryan Egan and Tyler Wenz both showed great hands and quickness in the title game, as Wenz took home the league's first Cereal Bowl MVP Award.
The Hooligans of 2004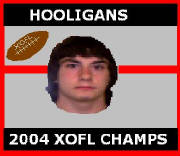 Team was led by Captain Joe Byrne, who is seeking a repeat this season
2004 XOFL Champions: The Hooligans (Joe Byrne(c), Frank Elmuccio, Bob Guild)--
In Cereal Bowl II, Joe Byrne showed the entire league his dominance. Byrne stepped up and earned the game's Most Valuable Player Award, with multiple touchdown catches, and played stellar defense. He and his team held off the Coonskin Cowboys in an exciting Championship Game, 42-35 in overtime. Frank Elmuccio had a touchdown catch in the game and Bob Guild played well at Quarterback, earning them their first ever XOFL Title.
(Click on Team Names for each champion's Home Page)