Byrne Dominates in Intersquad Game
Puts up huge numbers over mix of players from around the league
Ogdensburg, NJ--
In the final game game of a big preseason day in the XOFL,
Joe Byrne
went 13 for 20, with 4 Touchdown Passes. He also added a defensive interception and somehow recovered an Onside Kick late in the game and returned that for a score as well. His team won the game 42-14. Tommy Babcock added 8 catches on the day, and had 3 TD receptions. Chris Killacky had a big game as well, with 5 catches, 1 TD, a Defensive INT in which he score on.
Joe Byrne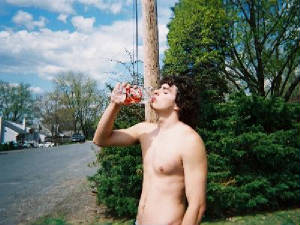 Byrne shown here "doing the dew" with his mullet fully intact
Nick Sabatello
came in for Rocky Tironi late in the game and threw his first ever TD Pass. He also threw a gross INT to Joe Byrne. Kenny Martinez had 4 catches and 1 TD reception in the game.
Rocky Tironi
and
Brian Saxton
combined to go 4 for 7 with 1 INT thrown in the game.