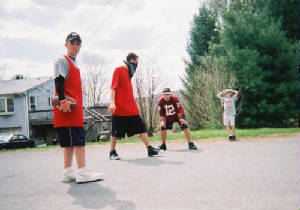 F 9 recovered after a disappointing preseason opener, defeating the Blue Baracudas 28-14
Saxton leads F-9 to First Preseason Win
Redeems himself after disappointing preseason opener
Ogdensburg, NJ--
After a 5 for 23, with 2 Interceptions performance,
Brian Saxton
tore apart the
Blue Baracuas
defense in his second game of the day. F-9 got their first preseaosn win, defeating the Blue Baracudas 28-14. Saxton was 19 for 23, with 4 Touchdown Passes in the game, and threw just one INT. His top target in the game was Xhevat Vukel, who caught 7 passes, 3 for Touchdowns.
Nick Sabatello
enjoyed a big day at wideout as well, catching 12 passes, adding a Touchdown as well. Sabatello also had a big defensive day adding an Interception, a sack, and a fumble recovery.
Rocky Tironi
, subbing for QB Gil Tussey, had a a decent game at QB, going 8 for 16 with 2 Touchdown Passes. Tommy Babcock is showing the league his ridiculous speed, burning cornerbacks everywhere. He had 6 receptions, 4 deep balls, and 2 Touchdown catches. Chris Killacky added a defensive interception for the Blue Baracudas.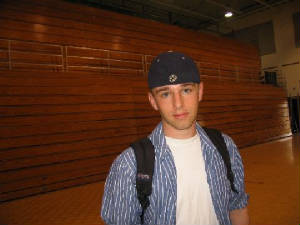 Saxton went 19 for 23, with 4 TD Passes in this game
After the game, QB Brian Saxton said, "Coming off a very dissapointing first 'game', only throwing 5 passes for completions and having 2 INTs, I'd say my performance improved tremendously. I don't think that we were ready our first game and that's why nothing clicked. Yeah my performance could not have gotten worse than it was the first game, but I'd have to say that it was the best overal performance as a QB today. It took me a while to get used to my recievers but when I did, things just clicked for us and the 4 TD's and going 19-23 really show that. Hopefully I can keep it up throughout the preseason, regular season, and playoffs eventually." Nick Sabatello stated, "During the British Gentlemen game, we practiced, worked on some routes. Brian (Saxton) started throwing the bell better," when asked about the drastic improvement.