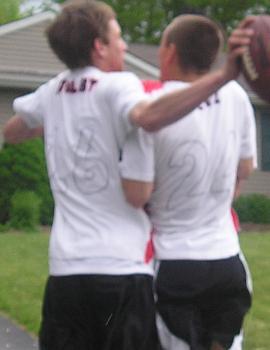 Bowlby and Co. after one of their 8 TD's on the day
GENTS' DOMINATE
Bowlby and Co. Defeat TLA, 56-7 in Week 1
Ogdensburg, NJ-- The British Gentlemen (1-0) came into Week 1 with a lot of pressure, being ranked the Preseason #1 Team coming into the season. Facing TLA, many throughout the league thought the game would be somewhat close, yet it ended up being another British Gentlemen blowout. Even early on, QB Adam Bowlby looked a little rusty, throwing an Interception in the team's first offensive drive. Bowlby settled down though, going 24 for 37, with 7 TD Passes, tying only Joe Byrne for best in the league.
WR Frank Elmuccio caught 16 balls on the day, along with 4 TD receptions. Elmuccio is a highly respected XOFL WR, and is considered to be one of the best this year. His 16 catches rank him second in the league in WR's, only behind Tyler Wenz (23). WR/CB Travis Wenz had another big day, catching 3 TD Passes and adding 2 Interceptions. Wenz is only 1 of 4 people in the league who had multiple INT's in Week 1.
TLA Captain/QB Nick Selepouchin came into the game with a lot of anticipation. And early on, it looked as if TLA came out to play and give the Gents' a Week 1 shock, but TLA could not find the offensive rythem early on that is needed greatly in a game like that. QB Nick Selepouchin was 23 for 44 with 1 TD Pass, but threw 3 INT's in the game. Suprisingly, both WR's, Paul Palecek and Jeff Pospiech showed promise, both catching 10 or more balls, but together only combined for 1 score, not nearly enough in an XOFL game.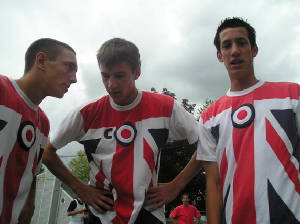 The British Gentlemen never seem to have one star in a game, as all 3 perform at such a high level
TLA (0-1) did show some sparks in the game, as they sustained long drives on a highly ranked British Gentlemen defense, yet Selepouchin had trouble avoiding costly turnovers after long drives. WR Paul Palecek believes the team did well for the first time together and believes he did fairly well in his debut, and just needs time to get use to the XOFL stating, "I think I did alrite. I just have to get used to the style of play of the XOFL and go on from there. For the first my time out there, I think I did average for what I should be doing on the field." Palecek caught 11 balls on Sunday in his week 1 loss to the British Gentlemen, ranking him 5th in the league. Teammate Jeff Pospiech is just behind him, with 10 receptions in Week 1.
As for the British Gentlemen, they continue to impress many around the league. They are scheduled to play La Policia next week, in the Game of the Week, yet WR/CB Travis Wenz may not be able to attend due to a soccer tournament. Without Wenz, who is an extremely important part of both the Gents' offense AND defense, La Policia may have a chance if Kenny Martinez can make it in Week 2. TLA squares off with the the suprising Team Walmart next week, who are looking to become 2-0 in the league.