Nick Sabatello, F-9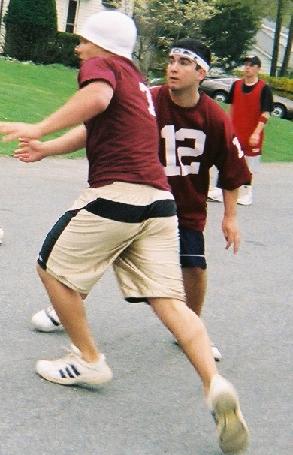 F-9 got the win, but still were disappointed with their effort
Tempers Flare as F-9 Gets Win
Guild, Sabatello involved in shoving match
Ogdensburg, NJ-- In a ridiculous preseason game,
F-9
got the win over lowly
Team Walmart
, 28-21. The game needed four overtimes to complete, as
Brian Saxton
hit Chris Killacky with a bomb to win it in the 4th OT. Due to some questionable calls,
Rog Guild
began fuming, almost playing tackle football for the entire 2nd half and Overtimes.
Nick Sabatello
also got in the heat of the battle, as both players had a brief shoving match, before being broken up by Commissioner Joe Byrne.
Brian Saxton continued his up and down preseason with another mediocre game, going 15 for 25, with 3 TD Passes, but also threw 3 INT's. He has 8 INT's this preseason. Nick Sabatello was the main threat on offense for F-9 catching 12 balls with 1 TD reception. Sabatello also had a big TD run late in the 2nd half. Chris Killacky, subbing for absent Xhevat Vukel caught 3 balls, 2 for touchdowns. He also had the game winning TD catch in the 4th OT. On defense for F-9, Brian Saxton added 2 sacks, while Nick Sabatello had an INT and a Sack of his own.
Team Walmart was led by Rog Guild throughout the game, catching 12 balls, 1 for a TD, while also going 8 for 15, with a TD Pass and 1 INT. Rocky Tironi was also at QB much of the game, going 14 for 31 with 1 TD Pass. He was sacked 3 times. Tironi also had a TD catch of his own. Dan Scoppetta, making his preseason XOFL debut, caught 8 balls with 1 TD and had 2 defensive INT's. Rog Guild added an Interception as well.
Guild and Sabatello went at it for most of the second half, right on through until the end of the game. Both players made remarks such as "You're ugly", "You Suck", and my personal favorite from Rog Guild, "Get off me," after making a 5 yard catch with Sabatello on the coverage. As Sabatello tried to continue play the right way the rest of the game, Guild would not let up, trying to take down each F-9 player on the pavement on every play.
Rog Guild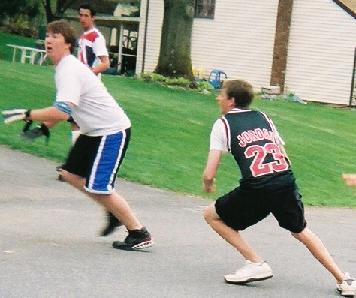 Guild still believes he did nothing wrong
Players around the league feel Guild overreacted completely as Brian Saxton stated, "I think that Guild overreacted in yesterdays 4 OT loss. He blew up on some calls that both officials agreed on, along with others who were watchign the game. Guild took his anger out on the players after plays and during, just playing way to violent for an XOFL preseason game. Joe Byrne did a great job ending most of the shoving but couldn't keep him from complaining throughout the entire game." Adam Bowlby, who was watching the game, said, "He acted very, very childish. His actions were way out of line but are typical of a Pope John player when things are going against them. (Joe Byrne getting his head stepped on and fighting) Knowing Rog guild like I do though I'd say this was an isolated incident and wouldnt expect it to happen again."
Nick Sabatello believed it went something like this, "I noticed he didn't like the way a couple close calls went. I saw him going hard to the head at my teammates. So on the Touchdown Run i gave him a stiff arm. I guess he didn't appreciate it because he got in my face. So I got him out of my face, and then Commish (Joe Byrne) came in and saved his life. I'm looking forward to Week 3." However, Rog Guild saw it a little differently, stating, "We were getting terrible calls, Brian Saxton smells, Nick Sabatello is just terrible at life, so I got infuriated, and started to go crazy, did I mention Brian Saxton smells?" Remember... all this happened in a meaningless preseason game. These two teams square off in what will be a much-hyped Week 3 matchup.