WALMART SHOCKS LA POLICIA
Surpass My Predicted Win Total for the Year in Week 1
Ogdensburg, NJ-- Somehow Team Walmart did it. Team Walmart, led by Captain/QB/WR Rog Guild, pulled off an improbable 28-21 victory over La Policia on Sunday in Week 1 of the XOFL. In the game, QB Rog Guild played very well to begin the season, going 13 for 25 with 3 TD Passes, and just 1 Interception. After the game Guild stated, "I think we played well, Jess played great, Rocky (Tironi) played well, and I had a good game. I think we have to keep this momentum going, and we could win some games, people can laugh, but we will have the bitter-sweet ending." Jessica Petronaci, making her XOFL debut, became the first ever girl to play in an XOFL game. After a shaky start, where she actually pushed a defender (Pat Lang) down to the ground on Walmart's first offensive play, began to get the hang of it and ended the day with an impressive 10 catches and one TD, good for this week's Play of the Week.
Rocky Tironi, of Team Walmart, was 14 for 23 but threw 3 INT's before Rog Guild made the switch about midway through the game. Tironi caught 3 TD Passes however, leading his team in TD Receptions. Team Walmart will be making a tough decision in the next few days, as word around the league has it that Daniel Scoppetta will be getting his cast removed any day now. I thought Petronaci played well enough to earn atleast another week before Scoppetta is physically ready to come back and play. Hell, I thought she gave Walmart more than what Scoppetta gave them.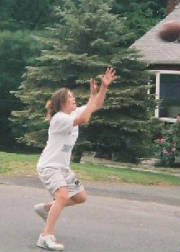 Jess Petronaci, shown here, waiting for one of her 10 catches on the day
La Policia played without rookie WR, Kenny Martinez, as Bobby Lang's younger brother, Pat Lang subbed for him. P.Lang caught 6 balls on Sunday, and recorded 2 defensive sacks. Bobby Lang had a tough day goign 13 for 28 with 3 TD but also had 3 INT's as well. Kevin Reidinger had a good day at WR, catching 7 balls, 3 good for TD's. La Policia has a big test in Week 2, facing top-ranked British Gentlemen, in a game where they can rebound and make a statement to the league with a victory. Team Walmart squares off with TLA (0-1) in Week 2.
Kenny Martinez was unable to attend Opening Day because he was away on vacation. QB Bobby Lang had a difficult time finding open WR's as Pat Lang was unable to make a big time play, and Team Walmart did a good job at making B.Lang force the ball downfield for incompletions to K.Reidinger. Look for La Policia to rebound and give the British Gentlemen a tough game next week, as they will have their full squad I believe.