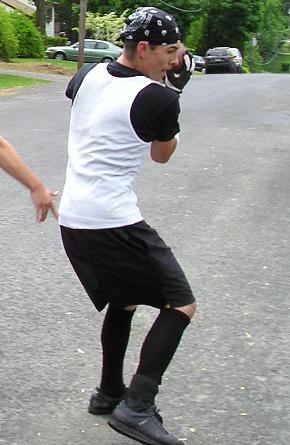 Wenz earned Player of the Week honors in Week 1 with 23 catches and 5 TD's
WENZ STARS IN DEBUT
Opens season off catching 23 balls, 5 TD's
Ogdensburg, NJ-- Tyler Wenz is just that kind of player. This kid missed the entire preseason, not making a single appearance in any of the exhibition games, yet still put up numerous league leading numbers on Opening Day. Wenz caught 23 balls and scored 5 times on the day, while also adding 2 big defensive INT's in the game, in a Week 1 49-14 win over the Hamburg Knights. Wenz was not alone in his opening day magic, as QB Joe Byrne put up huge numbers, going 38 for 55, with 7 TD Passes, and just 1 Interception. Byrne just continued his dominating performances, as he excelled this preseason. After the game Wenz said, " We really clicked on offense. Both Joe (Byrne) and (Ryan) Egan were clutch when it came down to crunch time," and also believes that although they clicked on offense on Sunday, that Defense will win championships.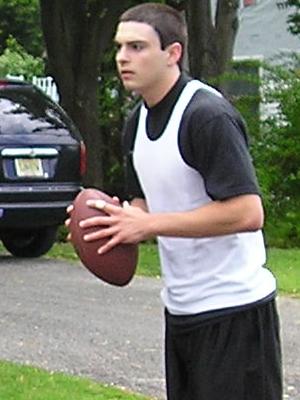 Byrne earned himself Offensive Player of the Week honors in Week 1
Captain Joe Byrne started the game on fire going 15 for 20 in his first two drives with 2 Touchdown Passes, one to each of his teammates, Wenz and Ryan Egan. Egan finished the day with 15 catches and 2 Touchdowns. Wenz and Byrne earned themselves two big honors in Week 1, ending up with the Overall Player of the Week and Offensive Player of the Week, respectively.
The Hamburg Knights (0-1) seemed to have trouble to find their ryhthm offensively, as neither Brian Saxton or Andrew Kasa could get their throws completed. Saxton finished the day with another very mediocre day, going 8 for 16, with 2 TD and 2 INTs, similar to his preseason performances. Andrew Kasa, who was debuting in the XOFL, was 3 for 11 with 2 Interceptions. TE Nick Sabatello knows his team played poorly, but is remaining positive for the upcoming games stating, "It was our first game together as a team. Nothing really worked. We played like garbage. We are going to improve. That is, in my opinion the best team in the league with all due respect to the British Gentlemen. Joe Byrne played amazingly putting the ball where only his receiver could touch it on every throw. We are gonna regroup and we will rebound against the Cuda's." Sabatello had a quiet day, much like the rest of his team, catching 7 balls with 1 TD on the day. Andrew Kasa added 4 catches and a TD as well.
The Hamburg Knights square off with the Blue Baracudas, who will be playing in their season opener next week, as Ferdinand Magellan faces the League Champs, who will also be playing in their season opener in Week 2.